The New Take Aim Airsoft Magazine North America is now available.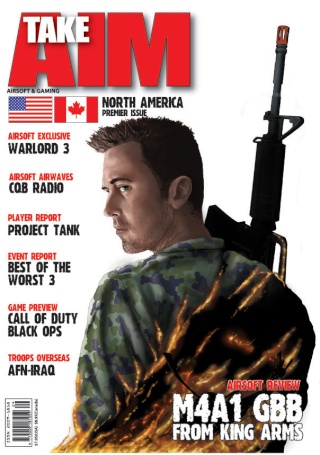 In this issue:
-Warlord Episode 3
-AFN-Iraq
-Best of the Worst AAR
-CQB Radio
-Project Tank (the most inspirational player EVER!)
-Roundhouse productions
-Gun reviews
-Video Game Reviews (Black Ops)
-Maintenance tips
-More!!
Take is available on our website www.OnTargetAirsoft.com or at:
-SS Airsoft www.ssairsoft.com (GA)
-King David Airsoft www.KDairsoft.com (IL)
-Carolina Airsoft www.airsoftcarolina.com (NC)
-vertex Airsoft www.vertexairsoft.com (TX)
-Precision Airsoft www.precisionairsoft.com (OR)
More stores coming soon! If your store does not have it, have them contact us to carry it.
Subscriptions also available at:
www.amazon.com
www.magazineexpress.com
www.ontargetairsoft.com